Our global network
With our global footprint and regulatory coverage, we serve customers in all parts of the world.

Centrient Pharmaceuticals has accredited manufacturing sites in six locations around the globe.
Wherever our customers are based, they can expect the same reliable on-the-ground support, unrivalled product quality and outstanding levels of service, each and every time.
Our extensive global network also allows our customers to source products from multiple locations, minimising the risk to their supply chain.
Our products are approved for global sales by the relevant regulatory authorities and consequently comply with the highest standards. We possess more than 500 local marketing authorisations, which were obtained based on Common Technical Document (CTD) dossiers in accordance with EU regulations, as well as 100 active pharmaceutical ingredient (API) dossiers, including Drug Master Files (DMF) and Certificate of Sustainability (CEP) dossiers.
This makes us a global partner in every sense..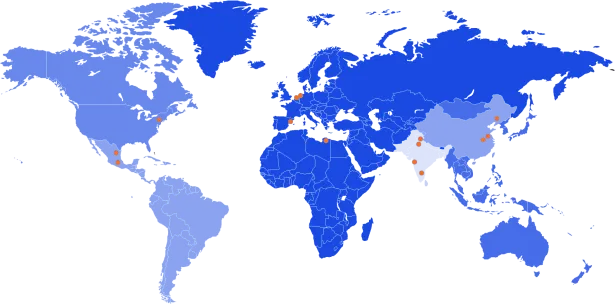 Sustainable procurement: Assessment of our suppliers and manufacturing partners
As part of our responsible procurement approach, environmental performance and compliance are important criteria in the selection of our key raw material suppliers and Contract Manufacturing Organisations.
Suppliers are assessed both in-house and by audit firms approved by the Pharmaceutical Supply Chain Initiative (PSCI). Assessments are based on the PSCI Self-Assessment Questionnaire (SAQ), which covers subjects such as workers' rights and human rights, ethics, health and safety, the environment and management systems.
Our suppliers sign the Centrient Pharmaceuticals Business Code of Conduct, which includes requirements on environmental performance, human rights, ethics and other key issues.
In line with our efforts to produce antibiotics responsibly and sustainably, we evaluate suppliers and the other third parties we work with based on their waste discharge practices. Our self-developed online antimicrobial resistance (AMR) survey helps to increase transparency and identify areas for further improvement as we work towards responsible antibiotics production alongside our suppliers.